A huge thank you to the team at Laurieton Men's Shed for donating their time and expertise to build and deliver these for us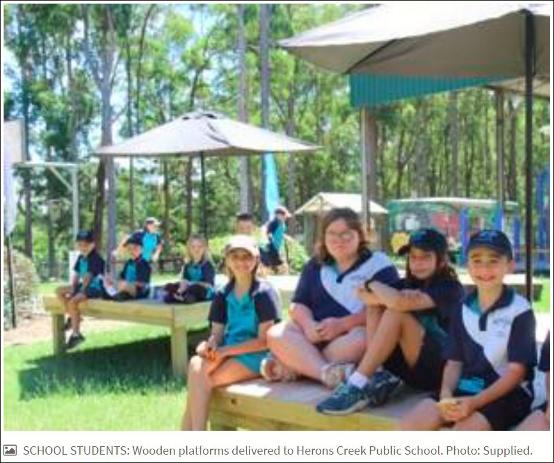 Laurieton Men's Shed Merry Christmas
As the Festive Season comes to a close, we couldn't let it pass by without sharing this video created by Laurieton Men's Shed- we were originally going to include this as part of our pre-Christmas video but decided it deserved to be shared on its own and we think you'll agree!
Thank you to all the gentlemen at the Men's Shed who participated and wishing you all a Safe and Happy New Year.
Click the link to see the BOYS sing. www.facebook.com/CamdenHavenChamberOfCommerce/videos/701797840
FAWNA NSW links with Laurieton Men's Shed for vital infrastructure project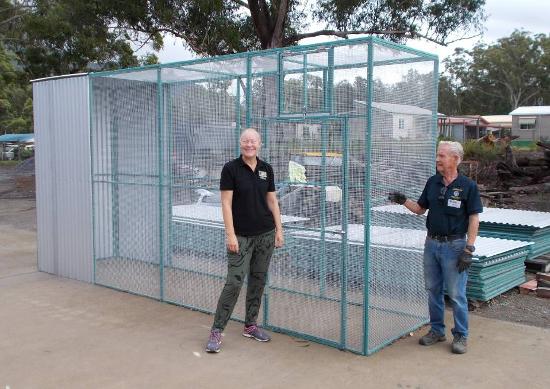 Vital infrastructure: FAWNA committee member Yvette Attleir and Men's Shed Laurieton project team manager Brian Woods with one of the large enclosures.
Volunteer wildlife organisation FAWNA NSW has welcomed a boost to vital infrastructure to ensure they can maintain quality care for injured and orphaned fauna.
The organisation recently received a $20,000 grant through the Australian Ethical Foundation, to go towards its Better Facilities for Wildlife in Care project.
FAWNA's Better Facilities for Wildlife in Care project will help improve outcomes of wildlife in FAWNA's care from initial rescue through to pre-release and beyond.
FAWNA NSW committee member Yvette Attleir said the organisation linked up with the Men's Shed Laurieton to help construct 15 large enclosures to house large animals who come into care.
The large enclosures will be distributed to a number of locations along the coast, as north as Kempsey and as far south as Bulahdelah.
Yvette said the bushfire crisis resulted in rescues of animals which were impacted and the enclosures will contribute to ensuring they acquire appropriate care.
The large enclosures mean the animals can exercise during recovery, which Yvette said is a vital part of the care process.
The organisation will also purchase quality flexible electronic heat mats for wildlife rescue, which includes a car adapter, control unit and battery operated thermostat probe.
This allows volunteers to create an ambient temperature for wildlife which are transported in cars, to reduce stress during initial care.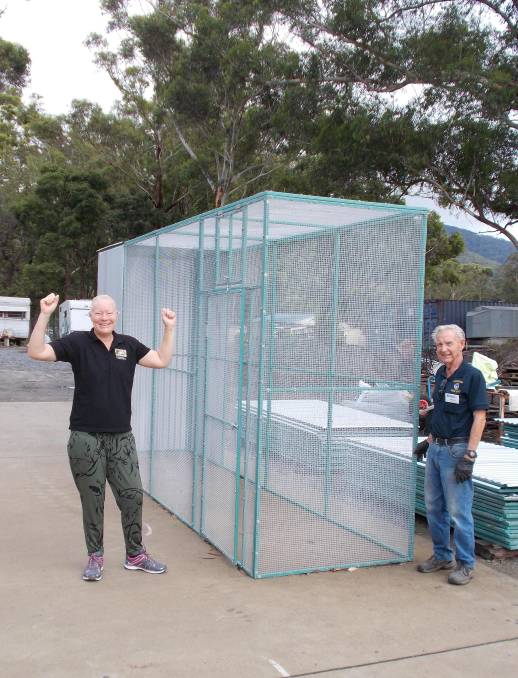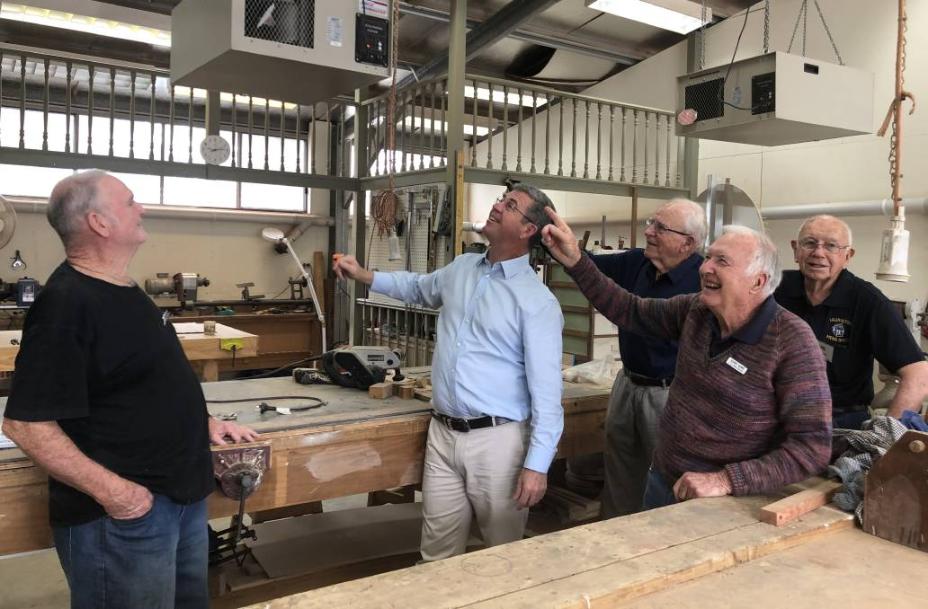 Pictured are David Gillespie with a few members inspecting new air cleaners provided with a grant of $1797 from the Kendall Op-Shop which will assist with keeping dust at bay for the volunteers and members of the shed.
Laurieton Men's Shed secured $1980 (GST incl) from the federal government towards the cost of new water heaters.
Dr Gillespie said local Men's Sheds are an important part of our local community, particularly for the support they provide to men's physical and mental health and wellbeing.
"The groups help many men in the Camden Haven, particularly as they got older, to connect with each other and prevent social isolation and preventable health conditions.
"Men's Sheds provide a sense of community, a safe and friendly environment where men can work on meaningful projects at their own pace, in their own time, in the company of other men."
"Members have an opportunity to pass their skills to others, learn new things, or just catch up regularly with other men in the community for a chat and a cup of tea."
Laurieton Mens Shed - Queens Lake Village Drivers' Team received a team award at the recent NSW Volunteer of the Year Awards Mid North Coast Regional Ceremony. The team consists of about a dozen men who volunteer to drive or co-pilot the village bus. Dave Napper, Karl Herb and Jim Dyer were at the Westport Club to accept the award on behalf of the team.
The team volunteers to drive the village bus on a regular basis to the Lakewood Shopping Centre on Mondays with another trip for residents into Laurieton on Fridays. Every third week there is normally an outing on a Tuesday which goes further afield to other regional towns or centres. Over the course of a year the team clocks up about 120 journeys.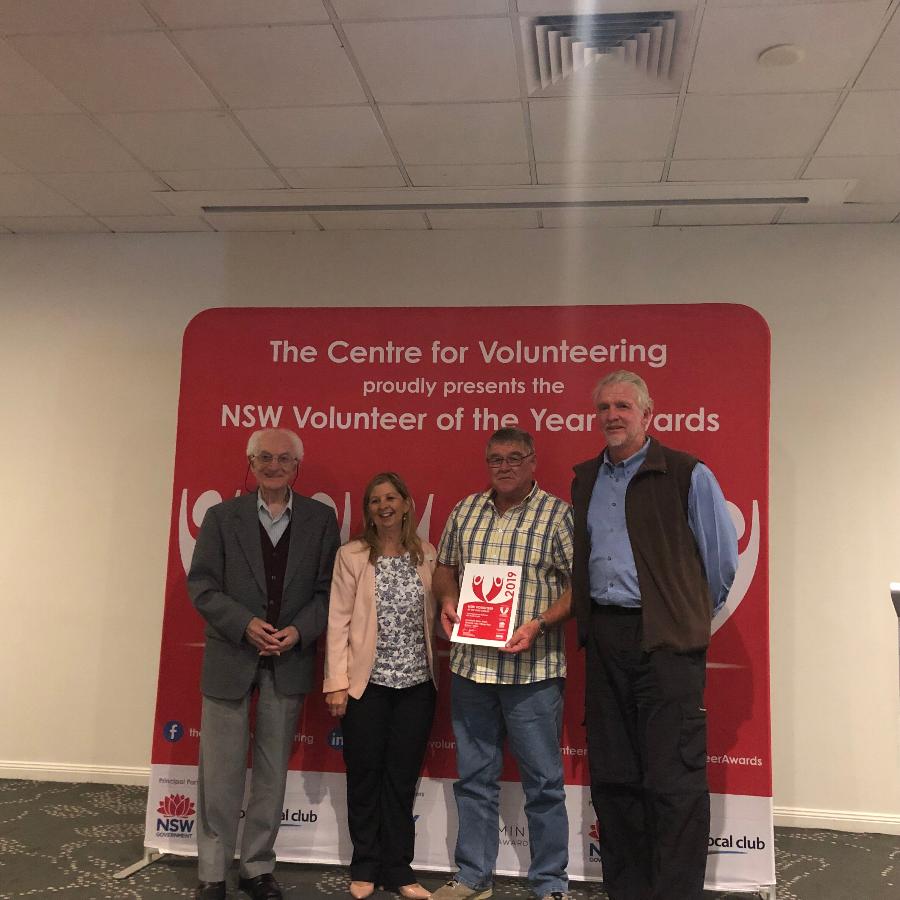 Laurieton Mens Shed donation from Commonwealth Bank Laurieton
Generous donation: Rose Sansom, Berni Preece, president of the Laurieton Mens Shed Barry Hume, Christian Hope and Pauline Hoad.
A generous donation to the Laurieton Men's Shed will ensure the group can continue to support the health and wellbeing of its members.
Commonwealth Bank Laurieton branch employees donated $500 to Laurieton Men's Shed, as part of a nationwide community donation program.
The Laurieton branch team voted to support the great work of Laurieton Men's Shed.
"We're very excited to have the opportunity to support the Laurieton Men's Shed," said Laurieton branch manager Pauline Hoad.
The group provides a safe and happy environment for its members.
"Where men can, in the company of other men, pursue hobbies, learn new skills and pass on old skills and mentor younger men," Pauline said.
"So it's great to be able to give back and support this work."
Commonwealth Bank pledged to donate $500,000 nationally to recognise organisations which make a difference in communities.
Laurieton Men's Shed member Phil Bowman sets sail from Laurieton for a six months yacht adventure.
Lorne resident Phil Bowman is about to embark on a six month adventure on the wide open sea.
"I'm not scared, I'm really looking forward to it," Phil said.
Phil purchased his 1969 Mark 1 Top Hat yacht back in 2005 when he retired. As a former diving instructor, Phil said he has spent a lot of time around the water.
"I can remember being very small and helping my father work on the boats," he said.
Over the last 12 months Phil has put in a lot of time on his yacht to ensure it is up to the six month journey.
Phil has remounted the vessel's engine, cleaned through the boat and installed a fridge to host fresh food for the journey.
Phil said he's often asked by people who else is going on the journey because he refers to the boat and himself as 'we'.
"It's just me, myself and I," he said.
Phil said he doesn't think he'll get lonely as he's taking plenty of books on board.
"I'll swap with others I meet along the way," he said.
Phil plans to travel up to Lizard Island, off the coast of Queensland and back again.
He's looking forward to soaking up the simple pleasures of life.
"On the water you get to see birds which thrived before introduced species like cats and dogs were introduced," Phil said.
"The dawn chorus is absolutely amazing."
While Phil expects to encounter some poor weather along the way, he plans to take shelter in various harbours to protect himself and the boat.
"The longest I've spent (to shield from weather) is 15 days," he said.
Phil will set sail on Friday, May 24 from the wharf at Laurieton United Services Club.
The wharf is becoming a popular hub with other sailing enthusiasts.
"One day I'd like to see it extended all the way to the Marine Rescue Camden Haven unit," Phil said.
"That will really make the town hum with visitors.
"A couple of weekends ago there were 15 boats here."
Six months is the longest time Phil has been on a sailing trip and he said he'll miss his wife Nan.

Laurieton Men's Shed choir marks 100 performances
The Laurieton Men's Shed (LMS) choir has notched up 100 community performances.
The choir reached the milestone at the Bishop Tyrrell Aged Care Facility on Monday, December 3.
Mike Rolf formed the choir with maestro Laurie Orchard and convinced a group of men to sing at the Laurieton Schools of Arts for a community fundraiser.
Mike Rolf has since passed away, but his legacy lives on through the voices of the men who turn up to sing each week.
Before Mike passed away he handed over the choir's leadership to Neil Radford. Graham King took over from Neil when he moved away from the area.
Maestro Laurie Orchard is the only member of the choir who has been to every one of the 100 performances.
Member of the choir Robert Scott said Laurie threatened to retire when he reached 90-years-old but is still going strong at 91.
"His guidance has made it possible for the men to entertain at most of the aged care facilities and community groups in the Camden Haven area," he said.
"We have also performed at aged care facilities in Port Macquarie, Wauchope and Cundletown."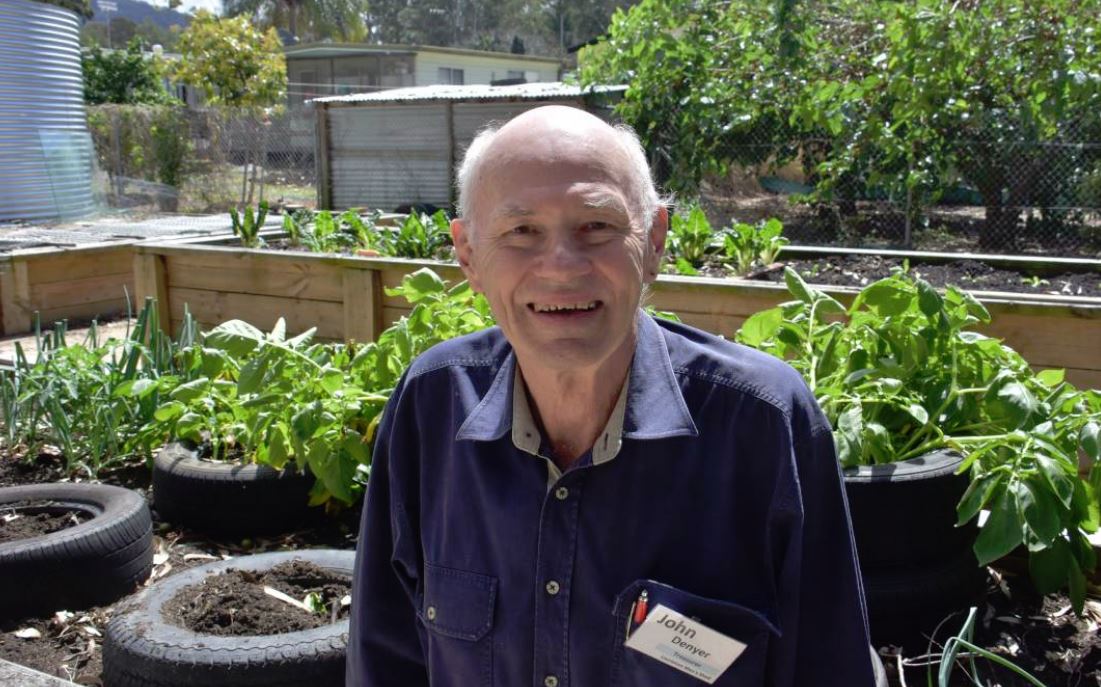 Some people can be at a loss as to what to do when they retire.
That's not the case for members of the Laurieton Men's Shed, if anything they're busier than when they had full time jobs.
Treasurer John Denyer has been a member for seven years and was recently nominated for a NSW Volunteer Award by his peers, for his work with the organisation.
Before he retired, John worked at the Australian Mint in Canberra as production manager. He jokes he used to 'make' $80,000 a day.
He finds his work as treasurer satisfying and he takes pleasure out of giving back to the community.
A lot of the members of the Men's Shed have come from jobs in trades and manufacture.
"We worked with men mostly and I think that's why coming to the Men's Shed is so important for a lot of blokes," vice president Richard Curry said.
Richard said it's important for men and women to have their own hobbies when they retire, to give each other space.
Read more: Men's Shed lunch for Laurieton Lakeside Nursing Home residents
"Most of their lives are spent working, so when they retire they spend a lot more time together, but it's important to have separate interest," he said.
"The Men's Shed is a place where men can feel comfortable and connect with others."
Richard and John said a lot of the men talk about physical or mental health issues, they feel they can't talk about with their wives or partners.
John said there is something for everyone at the Men's Shed.
People participate in activities including the choir, metal work and woodwork.
There are other people who might prefer to sit and quietly put together a puzzle or listen to music.
"It's their choice as to what they want to do," John said.
In August the members hosted a Father's Day luncheon at the location.
Richard said the Men's Shed would also like to host high school students, to teach them the basics on car maintenance.
The members have highlighted a barrier which prevents older people from visiting the Men's Shed.
"There's no bus service out this way and it makes it difficult for people who can no longer drive to get here," Richard said.
"It would also benefit older residents of the caravan park and school students."
Men's Shed donate instrument to Laurieton Lakeside
Laurieton Lakeside residents expressed joy when they got the opportunity to play their new instrument on Monday, October 22.
The instrument was implemented in an outdoor space at the aged care home, where residents will have the opportunity to play tunes on a daily basis.
Laurieton Lakeside staff member Cassie Greentree said she was so grateful to the Men's Shed Laurieton for the kind donation.
Cassie said the centre did research into how music helps alleviate anxiety related to ageing.
"We looked at purchasing some outdoor musical instruments but the cost was enormous," she said.
"We contacted members at the Men's Shed and they were so willing to help us out."
Laurieton Men's Shed members were instrumental in bringing the xylophone creation together.
Robert Scott helped to engineer the design and former music professor Laurie Orchard gave the instrument the fine tuning it needed, to be put into practice.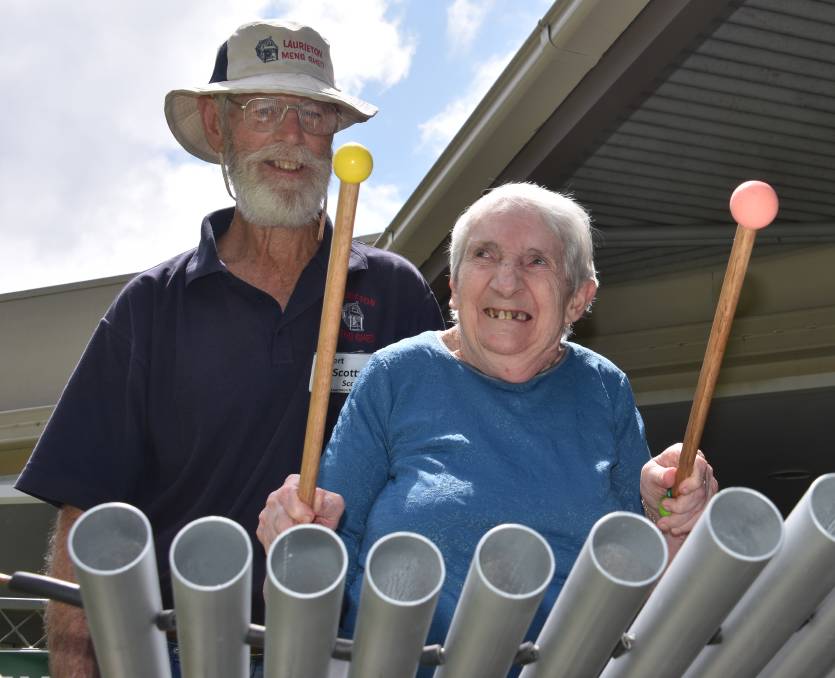 Kind donation: Laurieton Men's Shed member Robert Scott with Laurieton Lakeside resident Laurel Fleming
"When Robert sent me a video of the first test, I noticed the second last note was actually a B flat," Laurie said.
Robert had to trim back the piece of pipe to ensure it would ring a clear 'B' note.
Laurie said the range of the instrument extends to an octave plus six notes.
Robert sourced recyclable material to piece together the instrument. The ends of the mallets were found from the inside of golf balls and bouncy
balls.
Cassie said the centre was so grateful for the support provided by Men's Shed members.
"They were so accommodating to all the factors we had to take into account.
"These included rounded edges for safety, colour coding the notes and the appropriate height level so people wheelchairs could access it."
Robert and Laurie collaborated for about six weeks to bring the instrument together.
"It was a lot to do with trial and error," Robert said.
Laurieton Lakeside is installing a plaque at the centre to acknowledge the Men's Shed members for all their hard work.
"It wouldn't have happened without the passion of these men," Cassie said.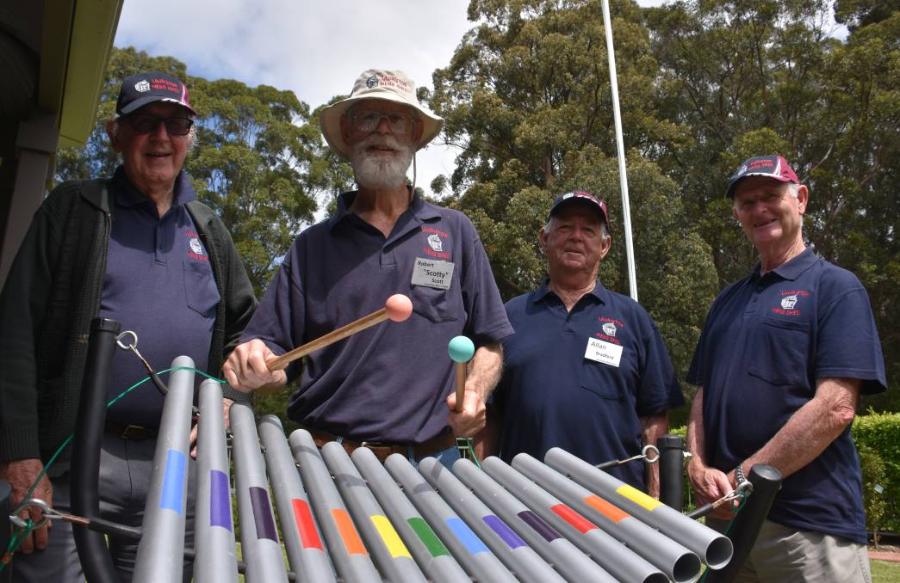 Laurieton and Kendall Men's Shed receive federal government grants
Laurieton and Kendall Men's Shed have received funding to expand and improve their facilities.
Federal Member for Lyne Dr David Gillespie said the funding will support men's physical and mental health.
"The $5,000 grant to Laurieton Men's Shed and the $3,500 to Kendall Men's Shed will mean a lot to their members and the broader community and I congratulate them on their success," he said.
Kendall Men's Shed will use its funding to provide specialised woodworking tools and equipment identified by members to enable additional activities, delivery of training and education to address health and safety.
Laurieton Men's Shed will use the funds to provide specialised woodworking tools and equipment identified by members to expand activities and produce quality products. There will be improvements to the shed facility to address health, safety and storage.
"Both Laurieton and Kendall Men's Sheds help men, particularly as they get older, to connect with each other to prevent social isolation and preventable health conditions," Dr Gillespie said.
"This funding round helps the group to buy tools and equipment, support community projects and training, maintain or develop their buildings, or create local activities to improve men's health.
The Laurieton Men's Shed has 150 members and provides a focus on health and wellbeing through activities including woodwork, gardening, health seminars, metalwork, community projects, vehicle restoration, furniture repair and restoration.

Members learn skills through computer training, cooking, lifestyle seminars, community and personal projects, regular speakers, friendship and social activities and member outings.
The Kendall Men's Shed has 109 members and has a strong focus on teamwork and improving skills.

The group members contribute to the community through the maintenance of the Kendall RSL Cenotaph Park and donated picnic tables.

The group is involved in projects including the RSL, schools, Driver Reviver and the local GP medical service.

"Men's Sheds provide a sense of community, a safe and friendly environment where men can work on meaningful projects at their own pace, in their own time, in the company of other men," Dr Gillespie said.
"Members have an opportunity to pass their skills to others, learn new things, or just catch up regularly with other men in the community for a chat and a cup of tea."
This grant funding is part of the $5.1 million the Federal Coalition Government has provided to the Australian Men's Shed Association through to 2018-19 to support the national network of Men's Sheds.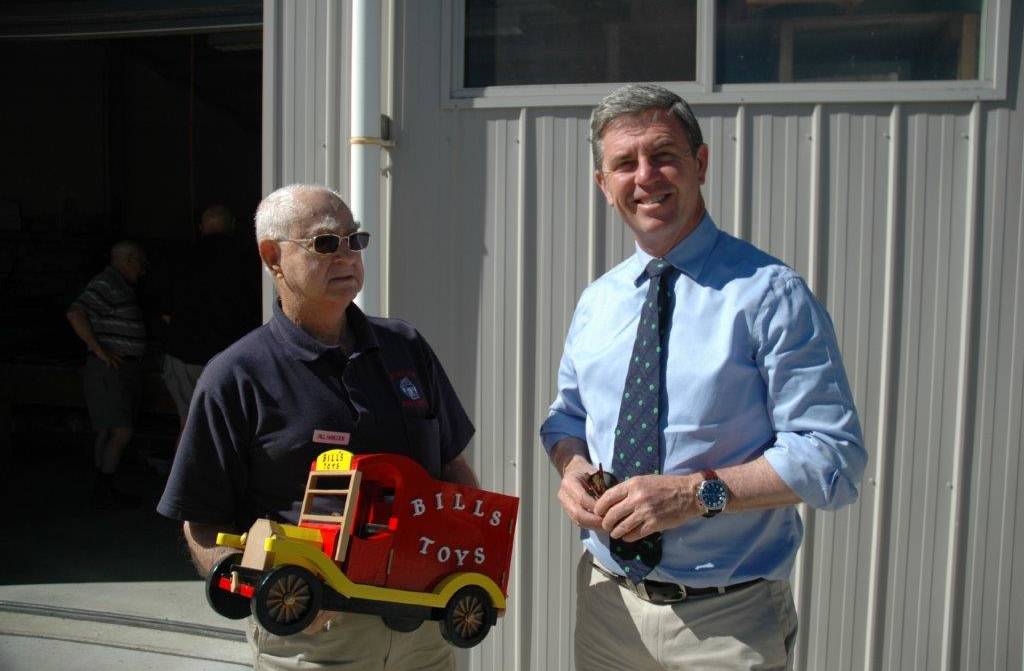 Laurieton Men's Shed marks two year anniversary
This month members of the Laurieton Men's Shed group are celebrating the two year anniversary of

the official opening of the shed.
The group's secretary Neil Radford said the shed continues to grow and diversify in keeping with the community and the members' needs.
"We acknowledge the wonderful contributions of a large number of people in the Camden Haven and the greater Hastings region who made the whole project possible through their donations of time and money," he said.
Mr Radford thanked founder Robert Rule 'whose vision and tenacity put the project on the map'.
He also made mention of the generosity of the current land owner Ross Hanslow, and before him Terry McGeary for making the parcel of land available to the group.
The project of forming the shed began late in 2011 with the turning of the first sod.
Mr Radford said since that time the shed has been successfully managed by a number of different committees to ensure the building's completion.
"The project was a triumph and a major milestone for all involved with the issuing of the final occupation certificate in 2015," he said.
The secure future of the location of the Men's Shed will further be assured for the long term once the transfer of the land is completed in accordance with the wishes of the initial donor Terry McGeary.
The group has been involved in many community events and continues to support local schools, pre-schools, aged care facilities and many community groups.
Members have assisted in projects including the construction of picnic tables for Laurieton Public School, an honour board for the Laurieton Fire Station and provided drivers for the Lakeside Village community transport service.
The Men's Shed currently has 150 members are there are many diverse projects to appeal to all individuals.
The group has a woodworking shop for members.
"It is always busy with members learning new skills, teaching old skills and with the production of a wide range of wooden items," Mr Radford said.
"They have produced ornamental wheel barrows, wooden toys, wooden bowls, picture frames, tables, pens, signs, Intarsia and wooden wall hangings."
Members have restored a Morris Minor motor car and are currently working on the restoration of an old Bedford truck. They have also restored a trailer for the shed.
Mr Radford said members also work on metal projects including repair and restoration of bicycles, lawn mowers and small engines.
The group also has a vegetable garden and some bee hives.
Through the Men's Shed choir members work to entertain the elderly folk in the aged care facilities and community centers.
"It gives us great pleasure and satisfaction, while putting big smiles on the residents' faces," Mr Radford said.
Members do cooking every Thursday in the shed's well equipped kitchen.
"The Shed recently completed the construction of a fabulous wood fired pizza oven which, in the right hands, produces excellent pizzas and bread," Mr Radford said.
There are also computer classes for members on Thursdays.
Mr Radford said the group helps the well-being of men including those who are retired and is forever striving to give the members what they require to keep them active and happy.
For more information or to join call visit the Shed at Diamond Head Road, Dunbogan.
Click on image below for a larger view
Click on image below for a larger view